How psychedelic drugs is catching on in Southeast Michigan
Today Dr. Megan Oxley runs Michigan Progressive Health (MPH), a ketamine clinic with locations in Royal Oak and Ann Arbor. But growing up, Oxley says, she was "a DARE kid."
"I truly believed that if I did LSD, I was going to have flashbacks, burn my eyes out from staring at the sun, or jump out a window," she says. "But it wasn't until I got into ketamine and I started reading books that I learned how the war on drugs is all racism and none of that stuff is true. But if you're on this path and it doesn't even occur to you to challenge that knowledge, that narrative just kind of sticks with you."
Dr. Megan Oxley of Michigan Progressive Health.
Oxley is just one member of a small but growing community in Metro Detroit that's working to counteract last century's stereotypes of psychedelics and advance knowledge of their medicinal properties. They agree that they've seen a marked shift towards public acceptance of psychedelics in our area, mirroring a growing national trend. Their hope is to see safe, well-educated, and legal use of psychedelics continue to grow as an acceptable alternative to traditional pharmaceuticals. Taryn Schiff, co-founder of the University of Michigan's (U-M) Student Association for Psychedelic Studies (SAPS) and a ketamine psychotherapist at MPH, says that while antidepressants and anti-anxiety medications "blunt our connection with ourselves," psychedelic therapy works quite differently.
"I think the primary mechanism of change that I see is just people connecting with who they truly are and leaving behind the burden of who they think they're supposed to be or who their family thinks they're supposed to be or who society thinks they're supposed to be," she says. "It sounds so simple, but it requires letting go of how you understand yourself in the world. You can't do that with other drugs and it takes years to do that in therapy, normally."
Beginning the journey
Local psychedelic practitioners have been drawn to their field in a variety of ways. For some, a profound personal experience with psychedelics leads them to build a life around introducing others to the substances. Such was the case for Highland Park resident Moudou Baqui, an educator and activist who was originally introduced to magic mushrooms over 20 years ago through his study of martial arts. Baqui says his experience began with "a lot of inner self-forgiveness," and his psychedelic experiences have since inspired him to develop skills in beekeeping, aquaponics, and archery. He says psychedelics have also led him to world travels, numerous friendships, and his marriage of nearly 20 years. 
Baqui says his friends who don't partake in psychedelics often think he has a "cheat code" for life.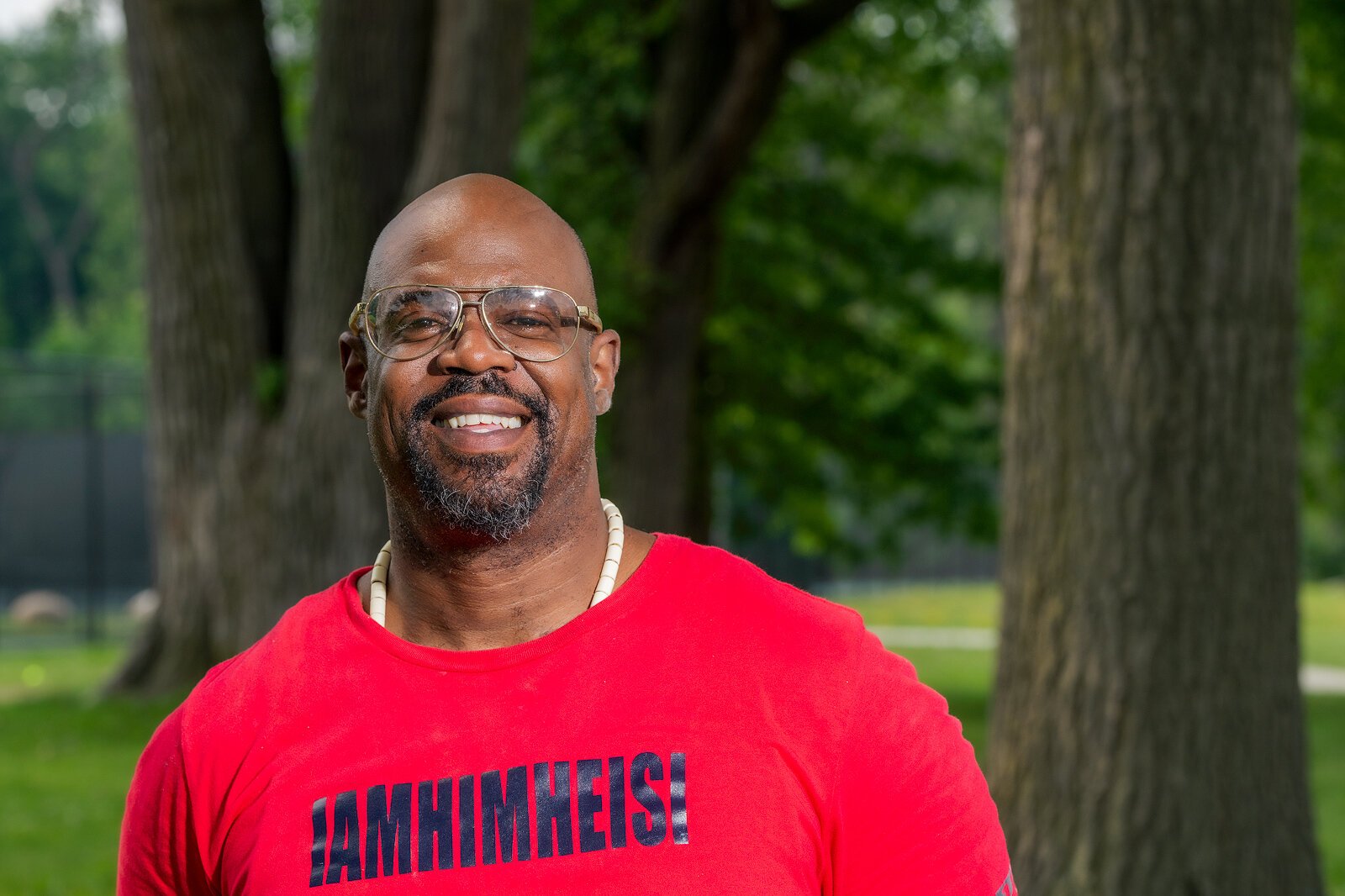 Moudou Baqui of Decriminalize Nature Detroit.
"It's not a cheat code so much as it highlights those things in life that are important and worth pursuing," he says. "And those negative habits or ideas or infatuations, it helps you get rid of them and travel light."
In contrast, Oxley came to her current practice through a very traditional medical background. For years before opening MPH, Oxley worked in emergency rooms, where ketamine's effects intrigued her. She was particularly fascinated by the drug's effects on children.
"Their eyes are going all over the place and they're hallucinating about who knows what," she says. "I was just always so fascinated about what's going on in their brains."
While investigating options for a family member who was suffering from depression, Oxley stumbled upon research about ketamine as a treatment for treatment-resistant depression. The moment struck her as a "lightning bolt from the universe," she says, and she opened her Royal Oak clinic in 2016, followed by the Ann Arbor location in 2020. Oxley has never used ketamine herself, but she's seen patients make huge strides in life after ketamine treatments, with "ripple effects" that extend into their families, careers, and those they impact as a result. She says she thinks many in the psychology field don't understand "how well patients can really get."
"Traditional psychiatric medications are capped at this level of wellness that we can well exceed with ketamine," she says. "I think that when we start using future psychedelics, it's just this whole new ball game, in my opinion."
Changing perceptions
Local advocates agree that they're in the middle of a watershed moment for social acceptance of psychedelics. 
"All of a sudden people are starting to pay attention and are listening and are believing the things they're hearing," says Julie Barron, who dedicated her Ann Arbor-based private practice, Blue Sage Health, to plant-based medicine 10 years ago. "It's been beautiful to watch this sort of unfolding of public acceptance. We have a lot of work to do still, but it's happening."
Oxley concurs.
"Five years ago, there wasn't any kind of pickup by anybody outside my circle," she says. "Now, people are curious. People want more."
Multiple forces are driving that growing acceptance. Most local advocates credit a swell of positive coverage of psychedelics in major media. They also point to influences including Michael Pollan's bestselling book "How to Change Your Mind," scientific studies of the substances' merits, and signs that the FDA itself is moving towards allowing therapeutic use of them. 
In recent years, local advocates have been working to build community among themselves and to raise awareness and acceptance of their work in related disciplines. Barron founded the Michigan Psychedelic Society in 2017, with education and harm reduction as two major goals. She says she's seen a "beautiful, beautiful community" form through the organization. The same year, Schiff founded SAPS while she was still a student at the University of Michigan School of Social Work. At that time, she says, "nobody wanted to talk about" psychedelics.

Taryn Schiff of Michigan Progressive Health.
"Nobody wanted to touch it," she says. "Nobody was researching it, as far as we knew. The professors were sort of laughing at us for starting this club."
But things have changed rapidly. SAPS has grown into a multidisciplinary club, attracting undergraduate and graduate students in fields ranging from neuroscience to physiology to anaesthesia. And, Schiff says, some professors in the U-M School of Social Work are now recommending that students attend SAPS events.
"In just three years, the entire psyche has started to shift at the university and really started to open up to [the fact] that this is a reality and that people are super-psyched about it," she says.
Nick Glynos, a former president of SAPS and current U-M Ph.D. student studying psychedelic neuroscience, recently co-founded a U-M-funded interdisciplinary workshop called Psychedelic Neuroscience and Therapy (PN&T). He says that for all the recent acceptance of psychedelics, a "pretty heavy stigma" still remains after 50 years of the war on drugs. But he says the sea change in public perception is driven by an ongoing mental health crisis, exacerbated by factors like COVID-19 and political polarization.
"There's so many things that are really challenging our ability to stay mentally healthy," Glynos says. "Couple that with our failed ability to treat mental health in adequate ways. Psychedelics are emerging as this new and exciting tool, maybe more effective than what we've been doing for the past 50 years."
Decriminalizing nature
Of course, the fact remains that most psychedelics are illegal at the federal level. Ketamine is legal, but psilocybin, LSD, MDMA, and others are Schedule I controlled substances. However, local advocates have also been working on decriminalization efforts – with notable success in Ann Arbor, where city council unanimously voted in September to effectively decriminalize entheogens. Those include psilocybin, peyote, ayahuasca, and other psychoactive plants. Ann Arbor was only the third city in the U.S. to pass such a measure, after Oakland, Calif. and Santa Cruz, Calif.
That major change was the result of a campaign by Decriminalize Nature Ann Arbor, inspired by the California campaigns and founded by Barron in 2019. After the speedy success in Ann Arbor, Barron and her collaborators have broadened their focus to launch a new statewide movement called Decriminalize Nature Michigan. They've now seeded Decriminalize Nature groups in Detroit, Grand Rapids, East Lansing, and Hazel Park, and they're also working with state Sen. Jeff Irwin as a sponsor of a statewide decriminalization bill.
"A poisonous mushroom can grow all over my yard and nobody seems to care. I could eat it and it could kill me, yet we have these restrictions placed on substances that won't kill you, like psilocybin mushrooms," Barron says. "So it's like a personal liberty to use the plants that come out of the ground. That's our birthright."
Baqui is working on the Decriminalize Nature Detroit campaign, which has submitted signatures to the city of Detroit to place a decriminalization proposal on the ballot this year. Baqui says the group decided not to petition Detroit City Council directly, as the Ann Arbor group did, because council members might be "afraid" of potentially being "attacked for advocating drug use." He hopes to build public support through a grassroots campaign that will engage notable local figures in education, social work, law, and government.
Baqui says decriminalization would open new possibilities and a safer environment for many people in Detroit who are already helping people use entheogens to heal. He envisions the creation of "healing centers" focused on entheogens.
"It would give them license to put their flyers out there, be a little more above ground, [and] take people in," Baqui says. "[They could] be a little more purposeful with how they receive people, more purposeful with exchanging therapies on how to work with people."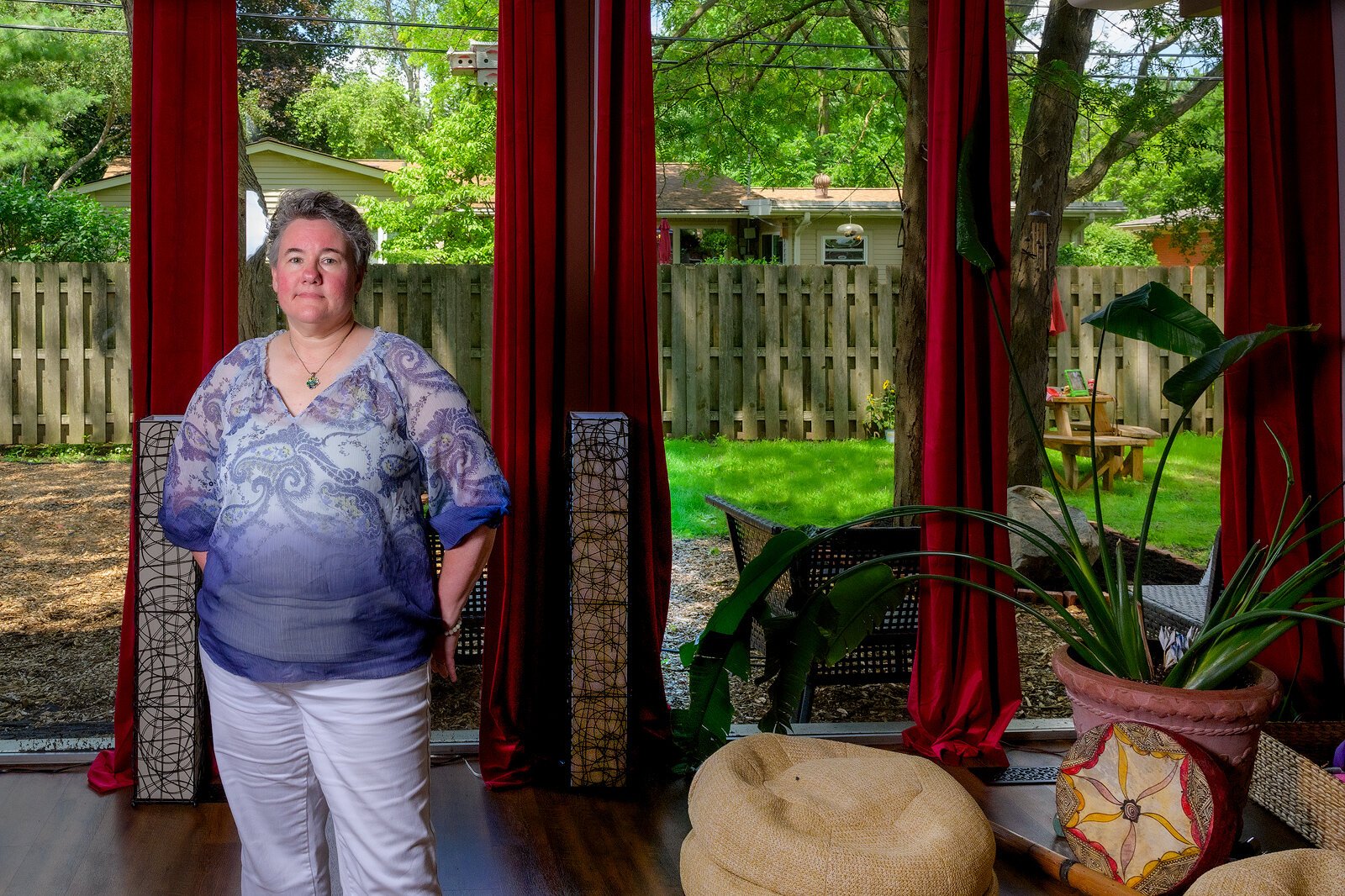 Dr. Michaelene Ruhl of Constellation Healing Arts.
Many local advocates and practitioners see decriminalization efforts as the next big step for their movement. Dr. Michaelene Ruhl runs a Farmington-based private practice, Constellation Healing Arts, which includes psychedelic integration work. She says criminalization of entheogens "was really more political than anything else."
"I think that with decriminalization, more and more people are going to start to be like, 'Oh, it isn't a drug. It's a healing plant,'" she says. "… Decriminalizing it is going to bring so much healing for people who have struggled to find something that helps them heal."
Coming challenges
However, a growing wave of acceptance also brings new challenges for psychedelic medicine advocates. One major problem for the field is racial inequity. Although many psychedelic medicine traditions originated among Indigenous people of the Americas, people of color have been disproportionately stopped, searched, arrested, and convicted under the war on drugs. Today, Schiff notes, most participants in research studies on psychedelic medicine, most people who have access to safe and/or legal psychedelic treatments, and most psychedelic medicine researchers are white. She and Glynos note that they've attempted to counteract that trend by spotlighting non-white people in SAPS and PN&T events.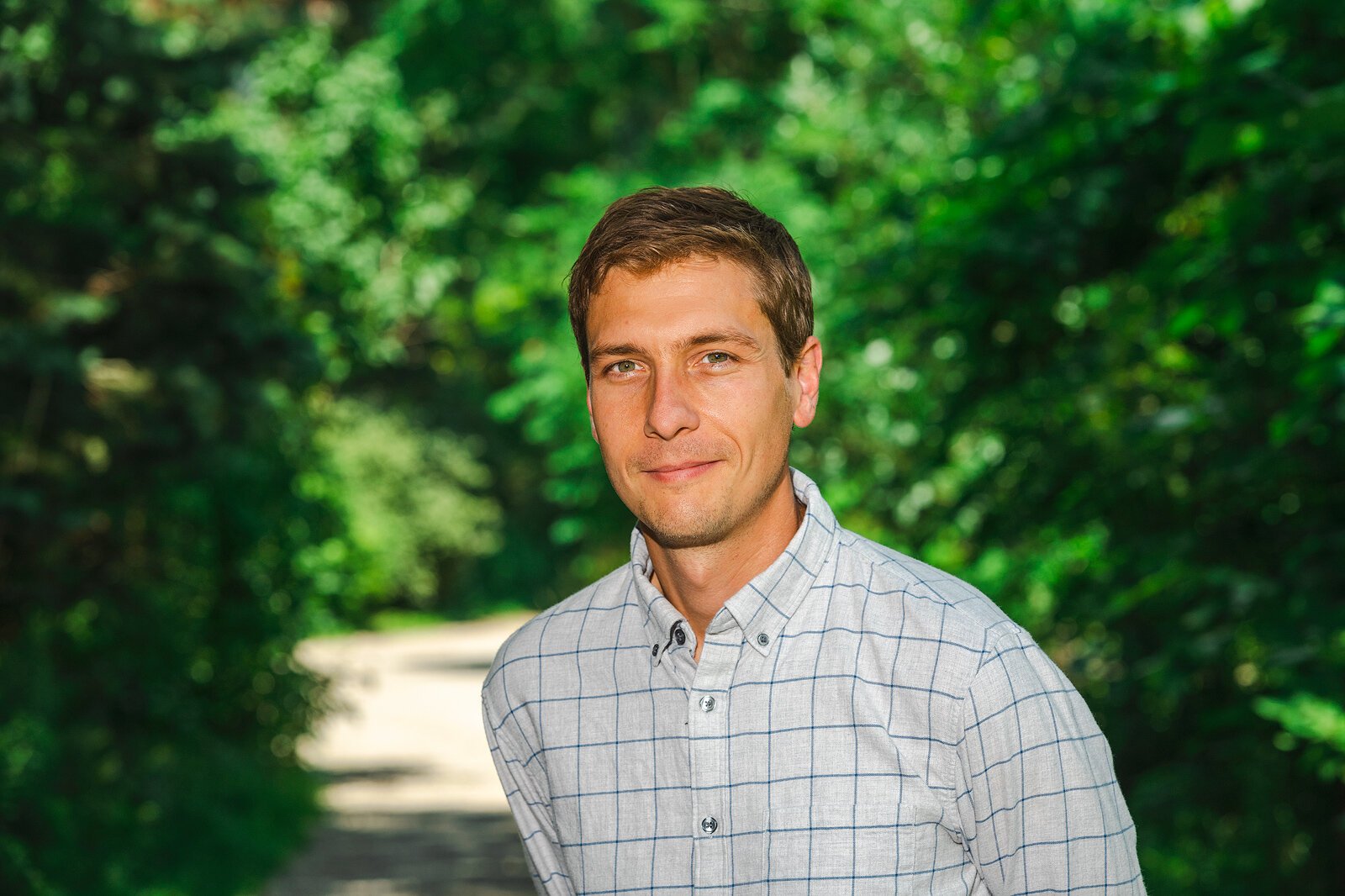 Former SAPS president Nick Glynos.
Baqui, who is Black, says whitewashing in the field goes even deeper. He notes that white people are also affected by the whitewashing of their own culture, viewing themselves simply as white rather than developing a deeper understanding of the specific European cultures from which they originated. 
"We know the world's cultures have sacred plant traditions," he says. "The reason that we have people from Europe going to South America [to partake in psychedelic medicine traditions] is because they were taught that their great-great-great-grandfather was a pagan, and not to study the stuff their great-great-great-granddaddy knew. But if they studied the stuff their great-great-great-granddaddy knew, they'd know, 'Oh hey, we have a sacred plant tradition too!'"
Baqui says both white people and people of color have been "culturally confused" about psychedelics, with people of color identifying them as "a white-people thing" and white people seeing them as an "exotic, Indigenous, non-white thing." And if the substances are further decriminalized, Baqui fears further whitewashing as big money moves in. 
"Part of capitalism is you create something that's exotic and then you commodify it," he says. "I think one of our greatest inoculations against that is demystifying the exotic and then highlighting everyone's culture."
Baqui certainly isn't the only one with concerns about big business' potential impact on psychedelics. Barron says "medicalizing" psychedelics will create "gatekeepers" to them, and the price tag won't be cheap, shutting out marginalized communities both from selling and buying psychedelics.
"It's really important that we [decriminalize entheogens] so that people who want to have spiritual practice with these substances, or people who want to do it within their own community or within their own homes, aren't restricted," she says. "They don't have to go through the gatekeepers of Big Pharma or their doctor or their therapist to do so."
Despite the many potential challenges, advocates are still enthused for what's ahead. Baqui anticipates a "cultural explosion similar to the late '60s, but even on a grander scale." Glynos echoes that sentiment, predicting that U-M will soon fund a large psychedelic research collaborative or center. He says it's "amazing" how many emails he's begun receiving daily from people who are interested in learning more about psychedelic medicine. 
"It's just the tip of the iceberg," he says.
Patrick Dunn is the managing editor of Concentrate.
All photos by Doug Coombe.